Professional publishing for the self-funding author
Welcome to SilverWood Books...
where you can work with our friendly, supportive team to produce a retail quality book that's designed, formatted and finished to the highest industry standards.
We can support you with a range of affordable professional publishing services, from copy-editing,
proofreading and book cover design, through to
author promotion, trade distribution, and hand-formatted ebook editions.
SilverWood. Dedicated to helping you flourish.
What do you want to do today?
Latest News
Sherrie Eugene Hart and Patrick Hart launched their cookery book this month at the Watershed in Bristol.
Coming Soon...
Curious Things Etc by Dave Peak
A dark comedy set in a mildly dystopian future.
Goose Bump Bumpity Bump by Kathryn Harries
A beautifully illustrated children's story about a clumsy goose learning to fly.
The Boy Who Yawned by Mark Dando
A children's rhyme about a little boy whose yawning gets him into an unlikely spot of trouble.
Bedminster Boy by Desmond Tucker
A heart-warming memoir that charts author Desmond Tucker's family history and personal life starting out in Bristol in 1929.
It Wasn't Me, Miss by Cynthia Willey
A collection of humorous and heart-warming true stories based on the author's career as a chemistry teacher.
The Hatmaker's Secret by Jill Treseder
Two babies born a century apart – what is the link between them?
From Lilliput to Lord's by Greg Young
A gripping true story all about the West Indies Test Caribbean cricket team between 1980 and 1995.
Death of a Cuckoo by Wendy Percival
A letter. A photograph. A devastating truth. Gina Vincent is horrified to discover that everything she's ever known is based on a lie.
The Bodies Man by David McCue
A memoir that focuses on the author's time with the military in Africa.
Bring on the Blacks by Desmond Ward
In 1960s Bristol a group of young First Bus employees set out to overturn the company's racist hiring policy.
Kill the Robot by Mark Dando and Doug Richardson
By itself, this book won't make you more confident – but if you practise the thinking disciplines it describes, over time your confidence will increase.
The Spirit Lives by Alison Porter
The story of a desperate quest for the truth – for closure, and also revenge.
Trials of Love by Dennis Loynes
Childhood sweethearts Matt and Emily are at the heart of this romance novel for young adults.
Until the Curtain Falls by David Ebsworth
October 1938, and foreign correspondent Jack Telford is on the run in northern Spain.
Eating Robots by Stephen Oram
Short stories set in a dystopian near future.
Echoes of Friendship by Wendy Worley
Andy is inspired by a school trip to the First World War battlefields where he learns about his great-grandfather's past.
Long Ago and Far Away by Dinah Read
Dinah Read's second poetry collection thoughtfully considers wild landscapes, nature, family relationships and human experience.
Money Mystery: What is Money? by Aga Glasewska
The first in a series of fun and informative children's books all about the history of money.
Uneasy Sleepers by Jeremy HH York
He may not know it yet, but Stephen Yates has a secret that could destroy his career, his life, and maybe even his country…
AB Gets His Wings by Richard Bland
The touching story of AB the teddy bear and his exciting aviation adventures.
There's No Such Thing as Monsters by Kylie Holmes
Tom believes that monsters live in his bedroom. His mum tells him there's no such thing. Is she right?
A Henchman's Honor vol 1 by Dennis M Young
Based on true events, 'A Henchman's Honor' is a memoir that charts the life and transatlantic travels of ex-NATO soldier Dennis M Young.
A Henchman's Honor vol 2 by Dennis M Young
Based on true events, 'A Henchman's Honor' is a memoir that charts the life and transatlantic travels of ex-NATO soldier Dennis M Young.
When Things Were Black and White by Enver Carim
In apartheid South Africa, Jerry's father is murdered in his home. Now Jerry must decide whether it is wrong to take law into his own hands.
Dancing With Shadows by Adrian Churchward
Book 2 of the Puppet Meisters Trilogy.
Dancing With Shadows [Hardback Edition] by Adrian Churchward
Book 2 of the Puppet Meisters Trilogy.
The Secret Life of Freaks by Ben Sansum
The second novel from the author of 'Spannered'.
Our Latest Book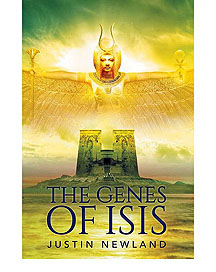 by Justin Newland
A tale of love, destruction and ethereal power set under an ancient Egyptian sky.
More
Price £11.99 plus P&P
---